---
Sort by:
Top sellers
New
Price ascending
Price descending
Filter
---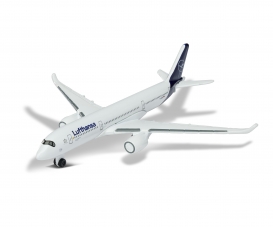 Aeroplanes
Airbus 350 Lufthansa Airplane
currently not in stock out of stock
The new Majorette Airplane Airbus 350 Lufthansa: take to the air with Lufthansa! The sheer variety of Majorette toys isn't just evident on the ground. We've also got model planes to satisfy the aircraft enthusiast. The Majorette Airbus 350 Lufthansa is a 13 cm long aircraft in the original design of famous airline company Lufthansa. The aircraft is made from durable metal with plastic parts. Authentic printing on the surface gives the model plane unique character. This Majorette aircraft makes a wonderful gift for all young pilots aged three and over. But this toy plane isn't just suitable for children; it also appeals to lots of collectors. This makes Majorette the perfect choice for every age.
More