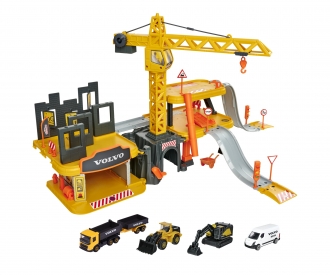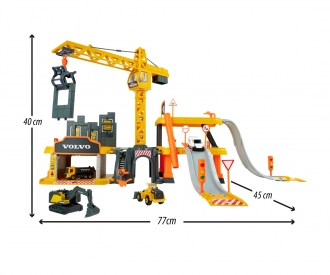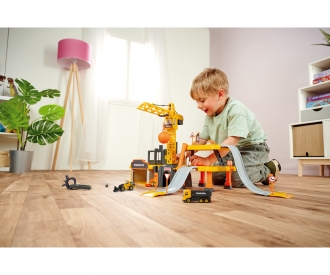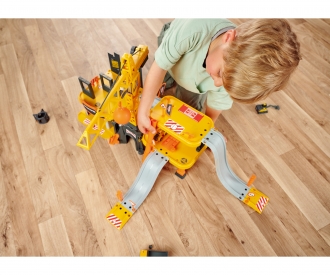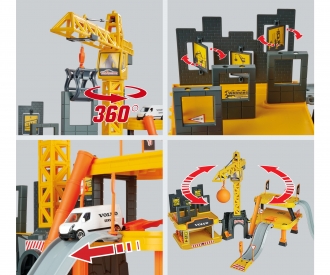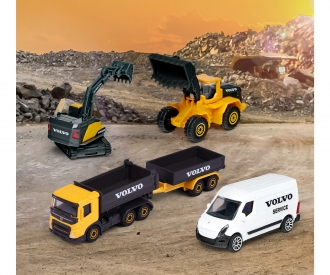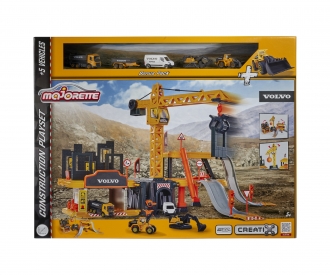 https://video.simba-dickie.com/embed/de/212057283_212057284_212057288_212057287_212050032_volvo_onlinespot/?autoplay=1&quality=720p
https://video.simba-dickie.com/embed/de/majorette-volvo-construction-playset-212050032/?autoplay=1&quality=720p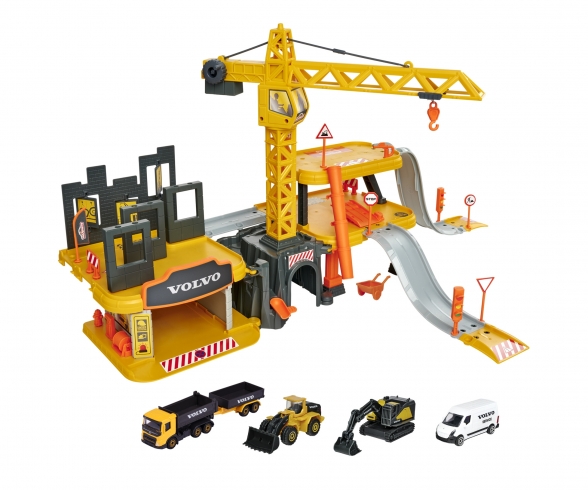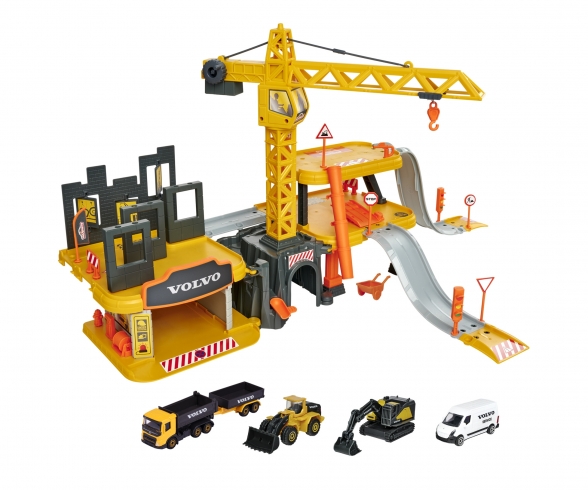 Creatix Construction Playset + 5 Volvo vehicles
Article number: 212050032
Age recommendation: from 5 years
Quantity:
1
2
3
4
5
6
7
8
9
10
11
12
13
14
15
16
17
18
19
20
21
22
23
24
25
26
27
28
29
30
Delivery time 1-3 working days within Germany
Majorette – Creatix construction site – XXL construction toy set, includes 5 Volvo construction vehicles, crane, tunnel, garage, three levels, for children aged 5 and above
Majorette Creatix construction site – the ultimate toy for budding young builders!
Young children are fascinated by building sites. The CREATIX Construction toy set features 3 different levels with a crane, tunnel and garage, and allows your little one to immerse themselves in the world of a construction worker in their own bedroom. Young children will love the colourful design and detailed features of the 65-piece set. Let your little one's imagination run wild!
Get to work!
Rotating windows provide a vantage point from which to observe the building site. Once you're ready to get to work, you'll find a 360° rotating crane with a crane arm and claw for moving construction materials around the building site. The crane also has a wrecking ball for demolishing walls. In addition, the set includes a rubble chute for transporting debris, as well as warning signs, cones and everything else that you need to create your own toy construction site.
Five toy construction vehicles
The steep ramp enables the five Volvo die-cast vehicles to reach their destination as quickly as possible. In addition to the crawler excavator, wheel loader and dump truck, there is also a service vehicle and a detachable trailer.
About Majorette - The cult brand from France has captivated car fans all over the world since 1964.
The realistic and original licensed models of world-famous car brands are manufactured according to the highest quality standards and feature a robust design. From cars, monster trucks, emergency and construction vehicles to racing cars – Majorette offers an extensive collection of toy metal cars and matching car park sets with different themes. The small metal cars are ideal for children aged 3/5 or above and aspiring collectors of any age.

Warning! Not suitable for children under 3 years due to small parts. Choking hazard!
• The ultimate construction toy – Featuring an exciting collection of original Volvo vehicle models, this toy set is an absolute must-have for budding young builders!
• Feature-packed design – 65 parts, 3 different levels, 360° crane with gripper arm and cable winch, tunnel, rubble chutes, warning signs, cones, wrecking ball, rubble, road system and tracks for vehicles
• 5 Volvo construction vehicles – including crawler excavator, wheel loader, dump truck and Renault Master Service vehicle with detachable trailer, 7.5 cm long
• Easily expandable – Just like all Majorette Creatix sets, the 77 x 45 x 40 cm construction site can be expanded and combined with many other Majorette sets (such as the police station) for even more fun.
• Package contents – 5 x construction vehicles, 1 x Creatix construction site with wrecking ball, claw for crane arm, flags, traffic lights, traffic signs, cones, window pieces, cones, wheelbarrow, rubble chute, cable reel, fire hydrant, boulders, sticker sheets, instructions
Frequently bought together
Frequently bought together