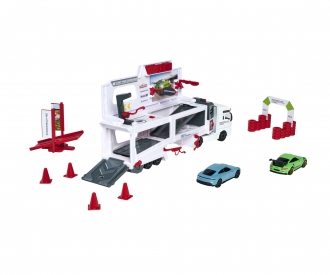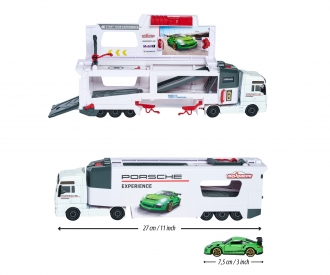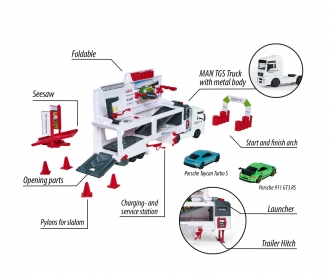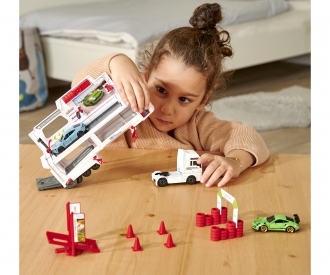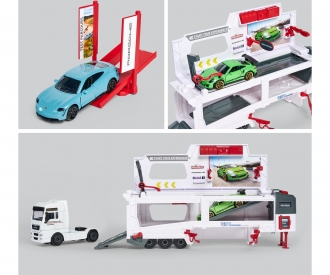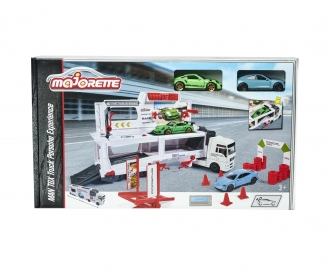 https://video.simba-dickie.com/embed/de/majorette-man-truck-porsche-experience-212053304/?autoplay=1&quality=720p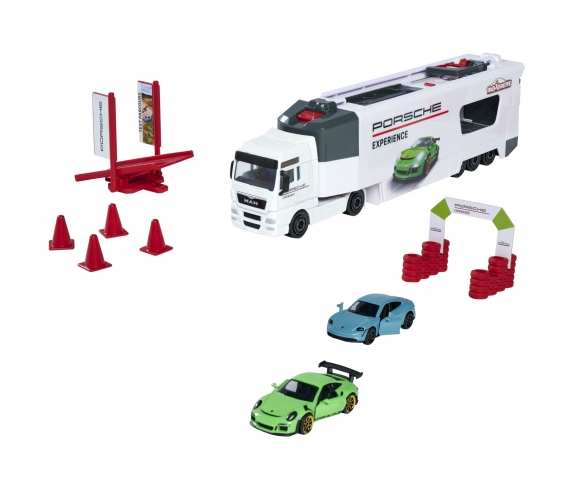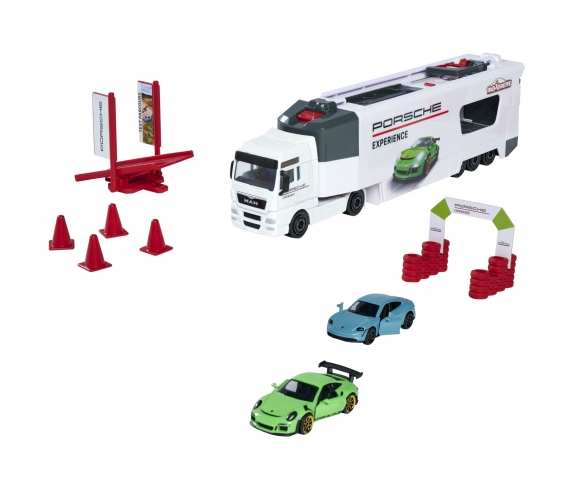 MAN TGX Truck Porsche Experience+ 2 cars
Article number: 212053304
Age recommendation: from 3 years
Quantity:
1
2
3
4
5
6
7
8
9
10
11
12
13
14
15
16
17
18
19
20
21
22
23
24
25
26
27
28
29
30
Delivery time 1-3 working days within Germany
Majorette – MAN TGX Truck Porsche Experience – Fold-out racing transporter, 27 cm long, includes Porsche Taycan Turbo S and
Porsche 911 GT3 RS, for children aged 3 and above
Majorette MAN TGX Porsche Experience Truck - the next big race is about to start!
Calling all Porsche fans – Packed with exciting features for car fans, the Porsche Experience MAN TGX truck is modelled on the original vehicle. Thanks to the push-along design, the truck is easy to manoeuvre.
Build your own race course!
Once you've parked the 27 cm truck, it can be quickly transformed into a full race track. Equipped with three different launchers, charging and service stations and countless removable accessories, you can build a number of different race courses. The feature-packed design and extensive accessories are guaranteed to keep you entertained!
Porsche racing car
No racing course would be complete without a set of racing cars. The set comes with two exclusive Porsche classics so that you'll be ready to race once you've assembled the track. The eye-catching Porsche 911 GT3 RS and the stylish Porsche Taycan Turbo S feature an impressive design and are manufactured according to the highest quality standards. Thanks to the rotating wheels and suspension, the 7.5 cm die-cast speedsters can handle even the toughest of race courses! Designed for children aged 3 and above, this set is a must-have for racing car fans!
About Majorette - The cult brand from France has captivated car fans all over the world since 1964.
The realistic and original licensed models of world-famous car brands are manufactured according to the highest quality standards and feature a robust design. From cars, monster trucks, emergency and construction vehicles to racing cars – Majorette offers an extensive collection of toy metal cars and matching car park sets with different themes. The small metal cars are ideal for children aged 3/5 or above and aspiring collectors of any age.

Warning! Not suitable for children under 3 years due to small parts. Choking hazard!
• Action-packed truck – This 27 cm folding racing transporter is packed with exciting features and is the perfect toy for all young car fans. The set can be folded for easy transport and storage.
• Feature-packed design – The feature-packed MAN TGX Truck Porsche Experience comes with thrilling car ramps, e-charging stations, a petrol station and everything else that you need for action-packed races, such as a start and finish arch, stacks of tyres, a seesaw, flags and cones.
• All you need for your next race – In addition to the truck, the set also includes 2 die-cast vehicles
(the Porsche 911 GT3 RS and Porsche Taycan Turbo S) with rolling wheels, opening parts and suspension.
• The perfect gift – Designed for children aged 3 and above, this set is the perfect Christmas gift for all Porsche and MAN enthusiasts and fans of fast cars and trucks.
• Package contents – 1x MAN TGX "Porsche Experience" truck, 2x Porsche models (911 GT3 RS, Taycan Turbo S), 1x start/finish arch, 2x tyre stacks, 4x cones, 2x flags, 1x seesaw, 2x e-charging stations, 1x sticker sheet
Frequently bought together
Frequently bought together