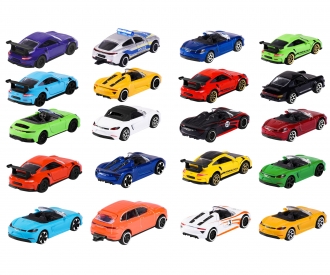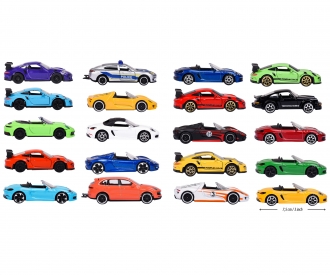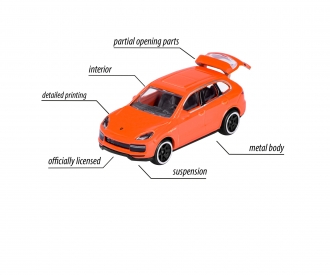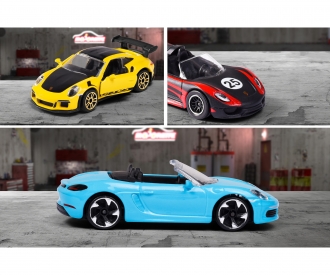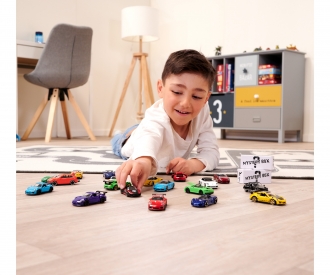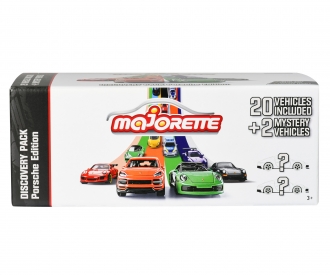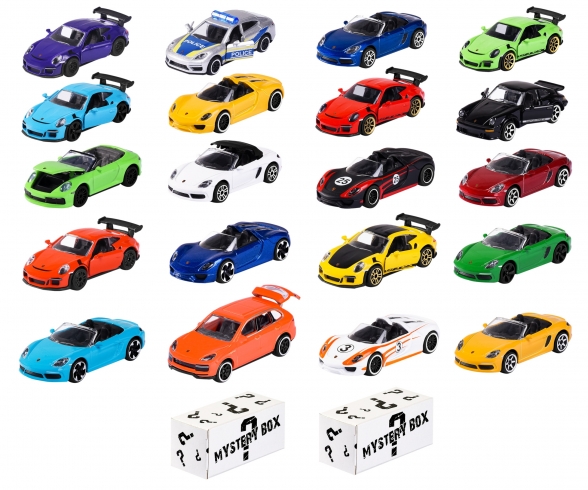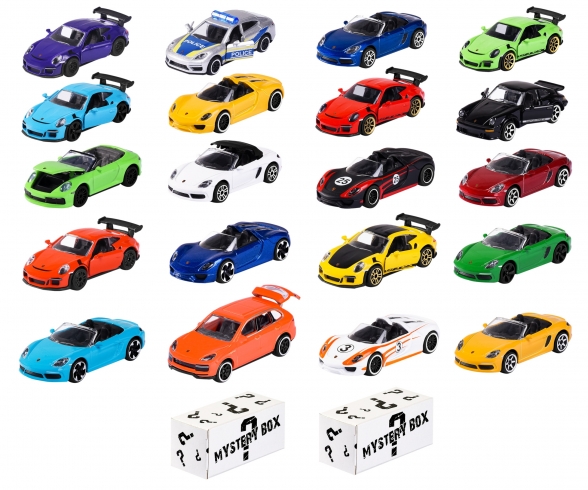 Quantity:
1
2
3
4
5
6
7
8
9
10
11
12
13
14
15
16
17
18
19
20
21
22
23
24
25
26
27
28
29
30
Delivery time 1-3 working days within Germany
Majorette – 20+2 Porsche Discovery Set – 22 premium model cars with metal chassis, suspension and rotating wheels, includes mystery vehicle, for collectors and children aged 3 and above
Majorette Porsche Discovery: 20+2 legendary Porsche vehicles, ideal as toys or collector's items
This set is the perfect gift for Porsche fans and collectors. The 20+2 Porsche Discovery pack includes 20 intricately detailed toy vehicles, from street, premium and racing cars to vintage and police vehicles in 1:64 scale, and is guaranteed to keep car fans entertained.
The set includes the following vehicles:
718 Boxster white, 718 Boxster blue, 718 Boxster red, Cayenne Turbo S E-Hybrid orange, Panamera Police international, 911 GT3 RS purple, 718 Boxster green, 911 GT3 RS green, 911 GT3 RS red, 911 Carrera S green. 911 GT3 RS yellow, 718 Boxster yellow, 934 black, 918 Spyder yellow, 918 Spyder white, 918 Spyder black, 918 Spyder blue, 718 Boxster blue, 911 GT3 RS red, 911 GT3 RS blue.
The Porsche Discovery 20+2 pack also includes a special surprise in the form of two exclusive vehicles, which are packaged in a mystery box to make unpacking even more fun!
All of the vehicles feature an original license and an intricately detailed design. Thanks to the robust metal chassis, they also have a long lifespan.
• 20 cars
• 2 random surprise cars in mystery boxes
• Cars with rotating wheels, suspension and hinged parts
• Length: 7.5 cm
• Material: Metal/plastic
• Recommended age: 3+ years
About Majorette - The cult brand from France has captivated car fans all over the world since 1964
The realistic and original licensed models of world-famous car brands are manufactured according to the highest quality standards and feature a robust design. From cars, monster trucks, emergency and construction vehicles to racing cars – Majorette offers an extensive collection of toy metal cars and matching car park sets with different themes. The small metal cars are ideal for children aged 3/5 or above and aspiring collectors of any age.

Warning! Not suitable for children under 3 years due to small parts. Choking hazard!
• A must-have for Porsche fans – This Majorette Discovery set includes 20 different models of Porsche vehicles, including street, premium, racing, vintage and police vehicles.
• Exciting sports and racing vehicles – The toy model vehicles include the 718 Boxster, Cayenne Turbo S E-Hybrid, Panamera Police, 911 GT3 RS, 911 Carrera S, 934 & 918 Spyder.
• Also includes 2 exclusive mystery vehicles – The highlight of this large miniature car set is the 2 exclusive mystery models, both of which are packaged in a special box.
• Official Porsche license – The 1:64 scale die-cast vehicles (7.5 cm) feature rotating wheels, suspension and hinged parts. Ideal for collectors and children aged 3 and above.
• Package contents – XXL Porsche car set with 20 vehicles + 2 exclusive surprise vehicles
Frequently bought together
Frequently bought together