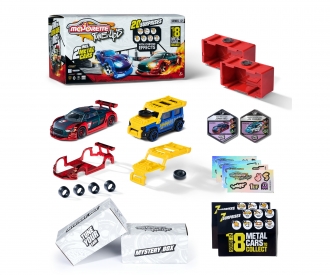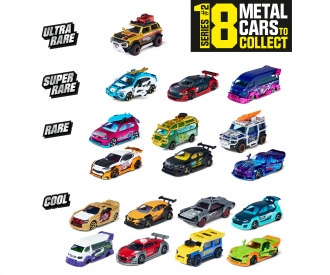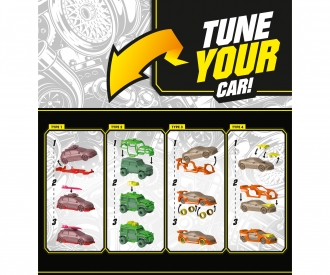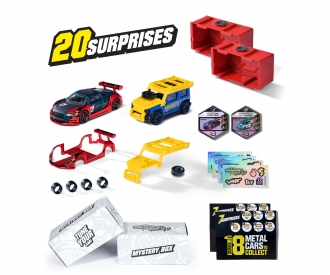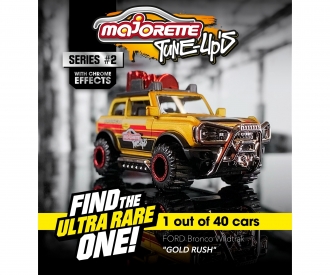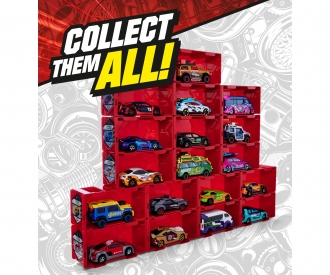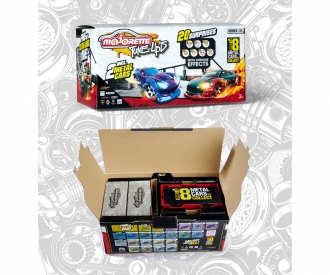 https://video.simba-dickie.com/embed/de/212051011_tuneupsseries2_onlinespot/?autoplay=1&quality=720p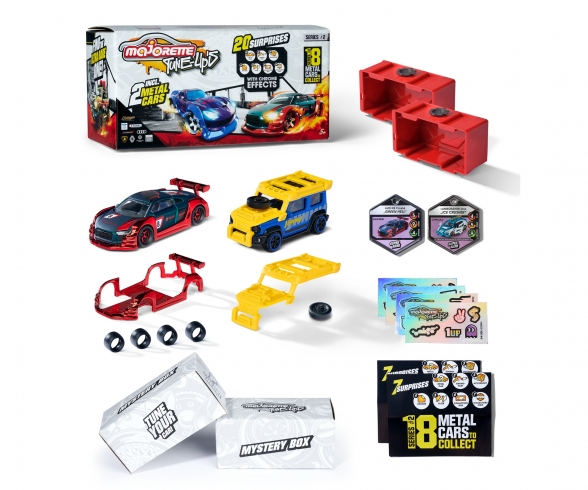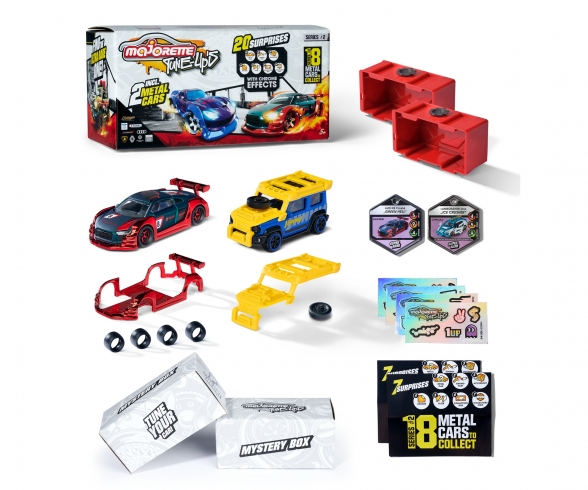 Tune Ups Series 2, set of 2 with 20 Surprises, 2 of 18 cars to tune in surprise pack
Article number: 212051008
Age recommendation: from 5 years
Quantity:
1
2
3
4
5
6
7
8
9
10
11
12
13
Delivery time 1-3 working days within Germany
Majorette – Tune Ups Series 2 – 2 pieces set with 14 surprises + 4 additional parts in exclusive colors and 2 extra chrome sticker sheets - Toy metal cars with chrome effect for tuning, each surprise pack contains 2 of 18 collector's cars, includes tuning accessories, collector's boxes and stickers
Majorette Tune Ups Series 2, 2 pieces set - the tuning workshop is open!
Calling all car fans aged 5 and above: the Tune Ups Series 2 is guaranteed to keep you entertained!
The ultimate collector's item
With each of the 2 cars there are 7 surprises! Choose from 18 different die-cast vehicles with rotating wheels and suspension.
• COOL: 8 vehicles with stunning paintwork and sticker sheet with chrome effect.
• RARE: 6 vehicles with special paintwork and chrome tuning body kit
• SUPER RARE: 3 vehicles with special premium paintwork, body kit and accessories with chrome effect
• ULTRA RARE: The rarest model features a metallized gold paintwork, body kit and accessories with a chrome effect
There is also a collector's chip for enthusiastic car fans, which can be exchanged with other collectors. Each collector's chip contains the following attributes: terrain, speed and style.
For collecting, tuning and action-packed fun
The set also comes with a sticker sheet and exclusive components that allow you to customise your model car collection with your own unique designs. Tune up your car and go on a wild adventure! There is also a stackable storage box for putting your tuned-up creations on display.
About Majorette - The cult brand from France has captivated car fans all over the world since 1964
The realistic and original licensed models of world-famous car brands are manufactured according to the highest quality standards and feature a robust design. From cars, monster trucks, emergency and construction vehicles to racing cars – Majorette offers an extensive collection of toy metal cars and matching car park sets with different themes. The small metal cars are ideal for children aged 3/5 or above and aspiring collectors of any age.

Warning! Not suitable for children under 3 years due to small parts. Choking hazard!
• Majorette Tune Ups powered by "GRIP - Das Motormagazin". Expand your collection with Series 2! Large spoilers, stunning body kits, wide tyres and colourful stickers – in each 2 pieces set there are 14 surprises waiting to be installed directly by young car fans. 2 out of 18 collecting cars are included in each set, 4 additional parts in exclusive colors and 2 extra chrome sticker sheets
• The collection features 18 models in different designs, including the Lamborghini Urus, Audi R8 Coupé, Dodge Charger R/T, Volkswagen Golf, Toyota GT86, Renault Megane R.S., Toyota Hiace, Suzuki Jimny and the Dodge Viper SRT. If you're lucky, you might find the ultra-rare Ford Bronco Wildtrak with premium gold paintwork, a chrome body kit and roof rack.
• The perfect gift - Whether for passionate model car collectors or young fans, these realistic models make the perfect gift for car fans aged 5 and above, and are guaranteed to provide a memorable unboxing and tuning experience.
• Feature-packed design – Sporting a metal chassis, rotating wheels, suspension, a detailed interior, opening parts and tuning accessories, the 7.5 cm vehicles are a real eye-catcher.
• Extensive accessories – 20 surprises: 2 metal toy cars, 4x tuning kits (body kits), 4 accessory kits, 2x stackable collector's boxes, 2x collector's chips, 4x sticker sheets, 2x collector's flyers.
Frequently bought together
Frequently bought together