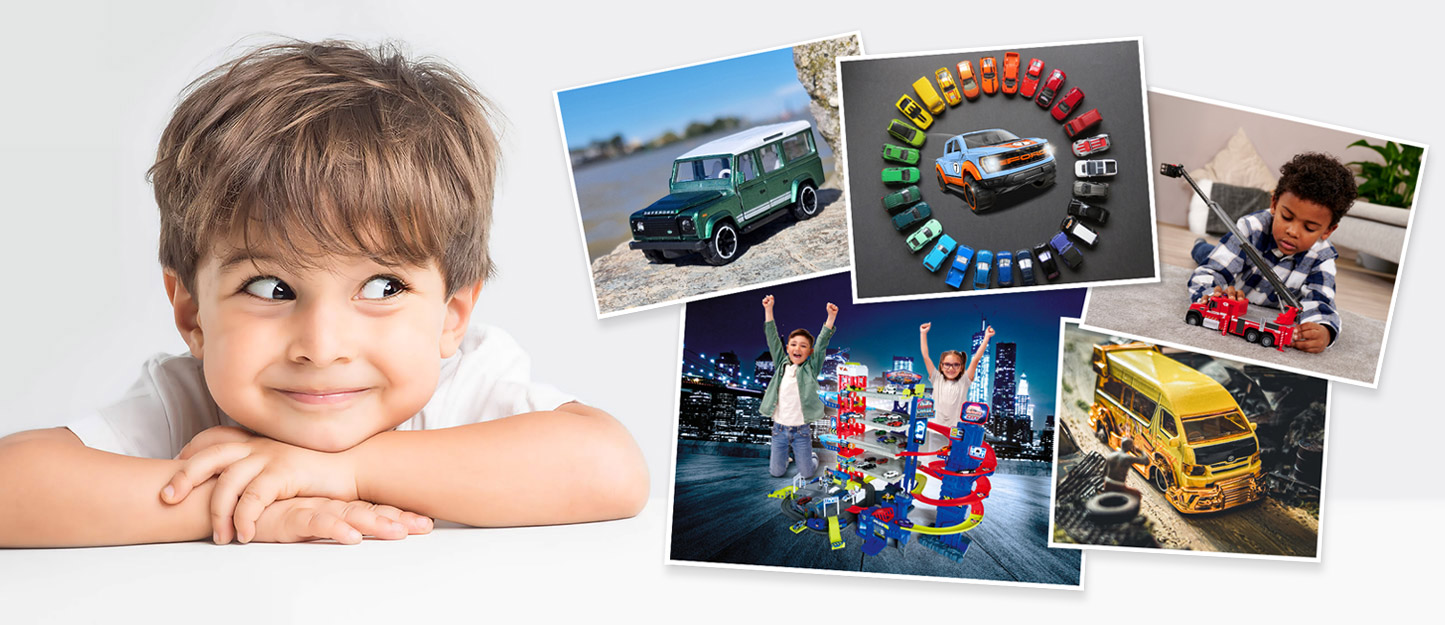 The cult brand from France is popular with car fans all over the world.
At about 7.5 cm long, the little metal cars have been an international hit for decades. They appeal to people from every generation as collectors pieces or for play. Majorette has been an automotive industry partner for many years, enabling it to develop very realistic model vehicles. From passenger cars, commercial and construction vehicles to racing cars and matching play sets, the range has something for everybody.
Brand philosophy
Majorette combines tradition with innovation.
As one of the best known French manufacturers of model vehicles, Majorette knows how to appeal to car enthusiasts. What spurs us on is a desire to design increasingly better and more realistic vehicles for young and old that give pleasure to the whole family. The particularly well-processed materials mean that our products are guaranteed a long life.
Majorette stands for:
A long tradition
... dating back to 1960s France.
High quality and play value
... of the model vehicles. The use of sturdy materials combined with premium workmanship in our own production sites means that they are of high quality and are particularly resilient. Opening doors and suspension in the tires guarantees plenty of fun.
A desire for authenticity,
... which we strive to satisfy over and over again with new, realistic product ranges. Majorette develops innovative play sets and model vehicles that are geared towards the real world.
A large selection
... of different vehicles in all kinds of shapes and colours with world famous brands of cars, so there's something for everyone.
The love of collecting,
... which unites all ages. Majorette stands for passion which inspires children and adults all across the world.
Show more
Show less
History
The history of the Majorette company
Emil Véron founds the Rail-Route company and starts off by manufacturing model railways.
The first model cars appear on the market under the Majorette name. Majorette, as the company finally comes to be called from 1967 onwards, quickly becomes France's largest model car manufacturer by revenue. Production is initially in France, then later also moves to Portugal.
First Majorette TV advertisement for die-cast cars.
Majorette acquires Solido, the famous French manufacturer of models for collectors. In the 1980s Majorette enters the lucrative business of advertising models.
Production is moved to Thailand.
In the 1990s light and sound vehicles are introduced into the range for the first time, along with garages.
The company declares insolvency for the first time and in 1993 is acquired by Idéal Loisirs, who in turn are taken over by Triumph-Adler in 1996.
The new millennium sees the range extended with model railways, remote-control vehicles and lots more.
Majorette and Solido are acquired by the Smoby Group who continue both companies as "Smoby Majorette", but in 2007 they once again have to declare themselves insolvent.
French financial investor MI 29 acquires Majorette.
The Majorette brand becomes part of the Simba Dickie Group.
The tsunami destroys the Majorette factory in Thailand. It is rebuilt with new, ultra-modern machines, moulds and tools.
The product range has been virtually completely revised since the Simba Dickie Group takeover. And at the International Toy Fair Majorette showcases a new packaging and point of sale design.
Show more
Show less
Production
Made in Thailand – Made in France
All Majorette toys are manufactured in the Simba Dickie Group's own factories and tested in accordance with the highest standards and quality requirements. Most are manufactured by approx. 600 colleagues in a production site in Thailand measuring 13,000 m². We produce some of the play sets in the Smoby Toys factory in Arinthod in France.
Quality
Perfect workmanship and long-lasting durability.
State-of-the-art manufacturing technology in our factories combined with innovative design guarantee maximum durability and the safety of our products. By working with internationally recognised test institutes during manufacture, we can guarantee compliance with international safety standards. We also give top priority to the conditions under which the products are produced. As a member of the SIMBA DICKIE GROUP, Majorette has signed up to the BSCI "Code of Conduct" for social justice.