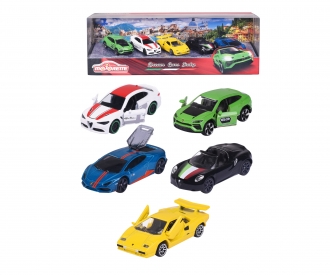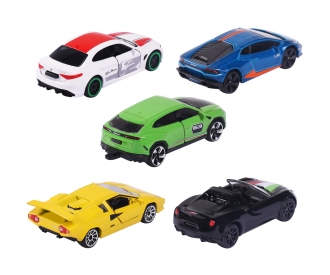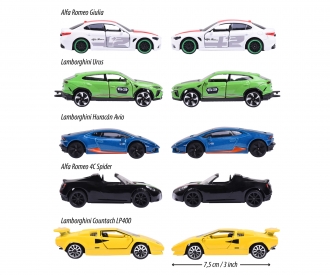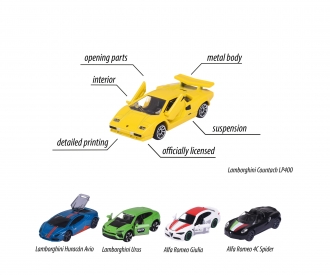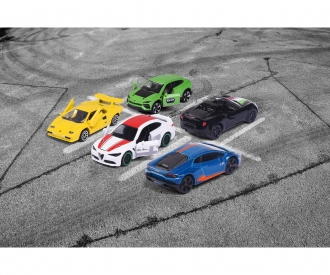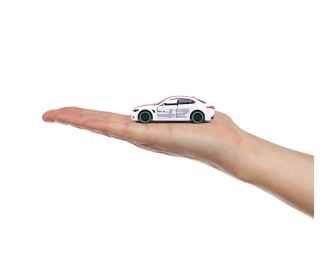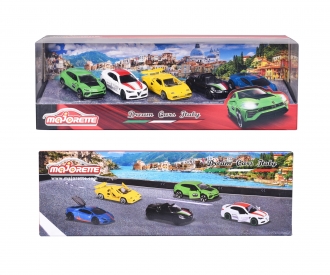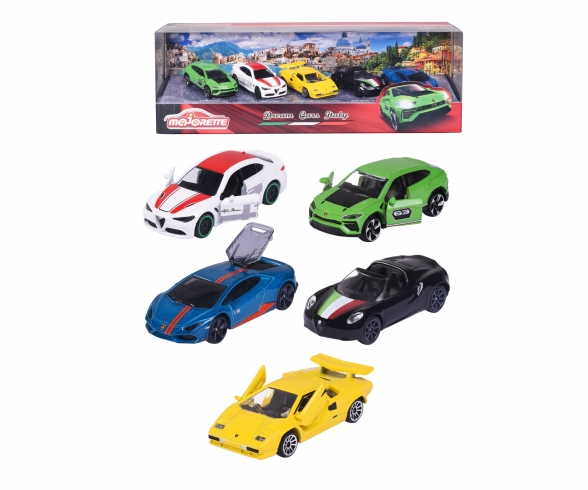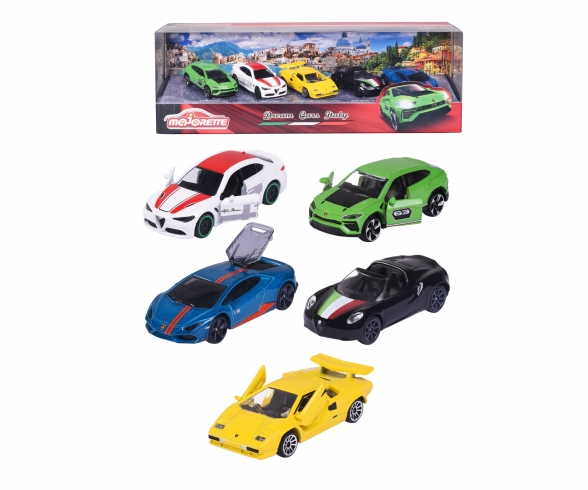 Quantity:
1
2
3
4
5
6
7
8
9
10
11
12
13
14
15
16
17
18
19
20
21
22
23
24
25
26
27
28
29
30
Delivery time 1-3 working days within Germany
Majorette – Dream Cars Italy – 5 Italian toy cars as gift set, model cars for collectors and children aged 3 and above, Alfa Romeo and Lamborghini
Majorette Dream Cars Italy: Gift set with 5 Italian dream cars!
The toy brand Majorette is all about impressive vehicles. The Dream Cars Italy gift set is no exception, and includes 5 realistic and high-quality Italian dream cars: The Alfa Romeo 4C Spider, Lamborghini Countach LP 400, Lamborghini Huracán Avio, Lamborghini Urus and the Alfa Romeo Giulia.
The mixture of true classics and modern models is guaranteed to please car fans of all ages. Each vehicle also features rotating wheels and suspension, as well as hinged parts and paintwork with a typical Italian design.
Majorette specialises in realistic models of vehicles, all of which have official licenses from the automotive industry as well as a robust metal chassis to ensure a long lifespan.
• 5 cars in gift set
• Length: 7.5 cm
• Material: Metal/plastic
• Recommended age: 3+ years
About Majorette - The cult brand from France has captivated car fans all over the world since 1964
The realistic and original licensed models of world-famous car brands are manufactured according to the highest quality standards and feature a robust design. From cars, monster trucks, emergency and construction vehicles to racing cars – Majorette offers an extensive collection of toy metal cars and matching car park sets with different themes. The small metal cars are ideal for children aged 3/5 or above and aspiring collectors of any age.

Warning! Not suitable for children under 3 years due to small parts. Choking hazard!
• Bella Italia – Stunning colours and cool designs: This model vehicle set consists of 5 famous Italian car models with stylish designs and details.
• 5 Italian dream cars – From famous classics to modern racing cars: 1. Alfa Romeo 4C Spider, 2. Lamborghini Countach LP 400, 3. Lamborghini Huracán Avio, 4. Lamborghini Urus, 5. Alfa Romeo Giulia.
• Gift set for car fans of all ages – Designed for children aged 3 and above, this set of 5 detailed metal vehicles is also perfect for adult racing car fans.
• Ideal as toy or collector's items – Featuring rotating wheels, suspension and hinged parts, the cars can be used as toys or displayed as part of a model vehicle collection.
• Package contents – 1. Alfa Romeo 4C Spider, 2. Lamborghini Countach LP 400, 3. Lamborghini Huracán Avio, 4. Lamborghini Urus, 5. Alfa Romeo Giulia – 7.5 cm long, metal/plastic
Frequently bought together
Frequently bought together