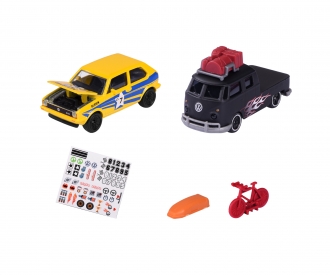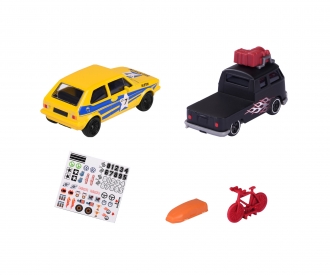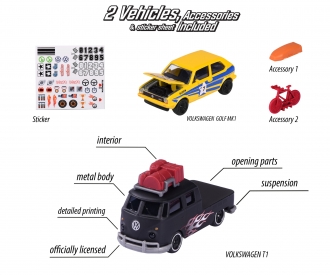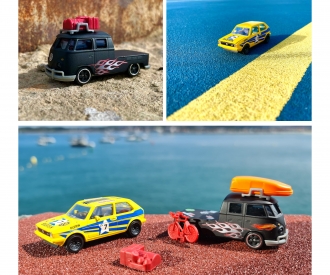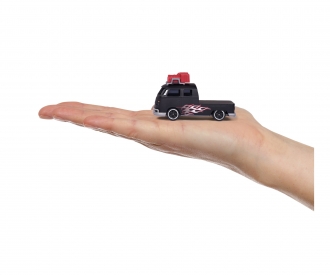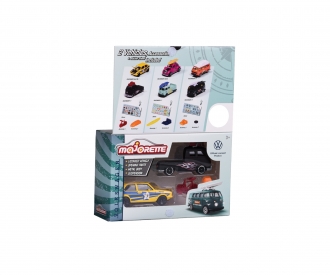 VW The Originals 2 Pieces Set Racing
Article number: 212055006Q01
Age recommendation: from 3 years
Quantity:
1
2
3
4
5
6
7
8
9
10
11
12
13
14
15
16
17
18
19
20
21
22
23
24
25
26
27
28
29
30
Delivery time 1-3 working days within Germany
Product information
Majorette – Set de 2 Volkswagen The Originals – 2 voitures miniatures VW, à l'échelle 1/64, avec feuille d'autocollants et licence VW officielle, modèles réduits très riches en détails
Le cadeau rêvé des collectionneurs : Un set de deux voitures VW avec une feuille d'autocollants et des accessoires Majorette !
Sous licence officielle, les voitures miniatures de Majorette sont le cadeau parfait pour les petits et les grands passionnés d'automobiles - des modèles VW conçus avec un grand amour du détail. Mais il n'y en a pas que pour les yeux.
Les roues libres et les éléments ouvrants invitent au jeu. Les suspensions assurent quant à elles une conduite particulièrement stable.
Le set comprend les modèles appréciés de la Volkswagen T1 et de la Volkswagen MK1 – tous les deux colorés. Si l'apparence des voitures devait toutefois vous sembler trop ennuyeuse, vous pouvez l'améliorer comme bon vous semble avec les autocollants.
Vous obtiendrez un set avec deux voitures miniatures VW de la gamme ainsi qu'une feuille contenant de nombreux autocollants – une belle surprise !
Majorette vous propose des véhicules réalistes sous licence des constructeurs automobiles avec une carrosserie haut de gamme en métal pour profiter des petites voitures le plus longtemps possible.
• 2 voitures miniatures dans le set avec feuille d'autocollants et accessoires
• Échelle : 1:64
• Longueur : 7,5 cm
• Matériau : métal/plastique
• Âge recommandé : 3 ans et +
A propos de Majorette - La marque culte française qui enchante les amateurs d'automobiles du monde entier depuis 1964
Les modèles sous licence et réalistes jusque dans les moindres détails des marques de voitures les plus connues possèdent une robustesse ainsi qu'une qualité exceptionnelle. Voitures, monstertruck, véhicules d'intervention, engins de construction et voitures de course. Majorette vous propose un grand choix de petites voitures en métal ainsi que différents sets de jeu de parking sur différents thèmes. Les petites voitures en métal sont idéales pour les enfants entre 3 et 5 ans ainsi que pour les collectionneurs ambitieux de tous âges.

Warning! Not suitable for children under 3 years due to small parts. Choking hazard!
---
Product details
• Set de 2 voitures - Le set comprend 2 modèles de voitures sous licence originale Volkswagen et à l'échelle 1/64.
• Une équipe de rêve - 2 véhicules VW Fahrzeuge dans un seul set : Volkswagen Golf MK1 + Volkswagen T1 Pick up
• Avec autocollants et accessoires - Tunez votre voiture ! En plus des deux voitures (de 7,5 cm chacune), le set Majorette contient une feuille d'autocollants et des accessoires individuels.
• Pour jouer et collectionner - Les voitures miniatures moulées sous pression vous sont proposées dans un coffret cadeau pratique et sont équipées d'une carrosserie robuste en métal, de suspensions ainsi que de roues libres - elles conviennent aux enfants dès 3 ans.
• Contenu – Set Golf MK1 + T1 Pick up
Frequently bought together
Frequently bought together